SPECIALISTS IN RESTAURANT FURNITURE
At MisterWils we are specialists in restaurant furniture, with a lot of style, always up to date and trendy. We have furniture for restaurants such as table tops and table legs, frames, stools, chairs, lamps, everything you need to create an atmosphere with personality and uniqueness. In addition, if you are a professional you have special conditions in the purchase of our furniture.
MORE THAN 500 PRODUCTS IN RESTAURANT FURNITURE
We have a large repertoire of seating, more than 200 models, with different styles and made of natural materials such as wood or rattan, we also have a large collection of upholstered chairs, and others for outdoor use made of synthetic fibre. Ask us about the personalisation of some of our chairs for the hotel and catering trade, which are manufactured locally and in-house.
Table tops, table legs, table frames, high tables for the hotel and catering trade, what do you need? We have a wide variety of table models, table tops in different woods, marble, terrazzo or phenolic. As well as table legs and frames, in different styles, colours and materials. Create your table in the size you need and the style that best suits your space. Buying the latest trend in hotel and catering furniture is easy, contact us and we will explain how we work.
And of course, stools are a must in a restaurant if you have high tables or a bar. In our catalogue we have high stools, in different colours and materials: upholstered, wood, synthetic rattan, leather. Check out all the models we have, you can search them by style: industrial, japandi, mediterranean, nordic, the styles that set the most current decorative trends.
In addition, we offer an endless range of models in lighting, ceiling lamps, wall lamps or table lamps. As always, in all kinds of materials, metal, glass, natural rattan, wicker, rope or metal. Lamps of different shapes, large or smaller sizes, with endless possibilities and combinations between them, to get the atmosphere you want is possible.
Storage furniture: shelves, buffets, sideboards or consoles. These pieces of furniture will help you to envelop your diners in a warm and cosy space, as well as offering extra storage in the room. You can find very different models, most of them in natural materials such as wood and natural fibre.
RESTAURANT FURNITURE MADE IN-HOUSE
Upholstered Benches
We have models of upholstered benches that are manufactured in-house, these benches can be adapted to the measurements required by your premises, as well as the colour and upholstery. Our models are very varied, choose yours and tell us what measurements you need.
Tables and tables frames
We have various table tops and table legs that can be combined with each other. You can customise the colour of some of our structures, choose the type of wood and its finish.
Chairs and stools Prêt à Porte
Our Prêt à Porter chairs and stools, locally manufactured, can be customised in colour and upholstery, making the combination that you like and that best suits the decoration of your premises.
Enjoy our special conditions
If you are an interior designer, an arquitect, a store owner or a restaurant manager you can take benefit from our professional discounts.
Choosing MisterWils furniture is a safe bet, not only because of its comfort, but also because of its class and style that will give your project a unique and distinguished design. From wooden chairs, to upholstered or industrial style chairs, to rustic style shelving, or capitonné sofas, if you have a clear idea of how to decorate your restaurant, you are sure to find what you need at Misterwils, we have more than 1000 references in horeca furniture.
We have a high commercial and logistical capacity to meet large volume orders, as well as our own workshops for customised, made-to-measure and personalised manufacturing.
At MisterWils we have been supplying the most elegant and up-to-date catering furniture you will find for years. We already have more than 6000 customers who trust us, and every week we update our catalogue with the latest trends.
If you need to know more about the special conditions for professionals, or if you need us to advise you on the catering furniture that best suits your project, do not hesitate to write us or call us.
Basic data protection information:
Responsible: MisterWils S.L.
Purpose: Sending the required information (in case you mark the required box)
Legitimation: User's consent.
Recipients: We don't release your personal data except when legally required.
Rights: To access, rectify and delete all data, as well as others indicated in our Privacy Policy.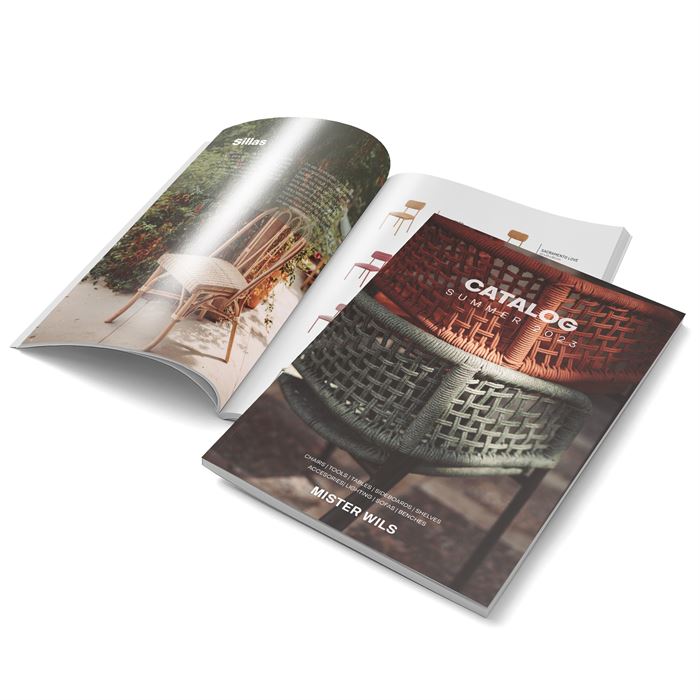 Download MisterWils' catalog
Every month we update our catalogue with all the latest chairs, tables, lamps, sideboards, stools, shelves and much more. We have furniture for the hospitality industry, specialists in Contract furniture, you can find out about the advantages for professionals.