RESTAURANT LIGHTING, WALL LAMPS AND LAMPSHADES
The lighting design of restaurants and bars is an indispensable aspect of their success. Every detail must be taken care of and it must be in line with the style of the premises and the type of food served. In addition, it must also facilitate visibility to workers and customers. All our selection of lamps, sconces and lampshades are valid for use in the Horeca sector, so you have a wide range of styles, so you can choose the one that best suits your premises. 
TYPES, MATERIALS AND SIZES FOR HOSPITALITY LAMPS
In hospitality lamps we can find different types, which are basically the same as in lamps for the home: ceiling lamps, pendant or suspension, table lamps, sconces, whether wall or ceiling and lampshades, with which to make a lamp with your own specifications. 
We can find a wide variety of different materials in the lamps for the hotel industry such as glass, metal, cement, wood and natural or artificial fibers, and finishes such as carved glass, brass bath, paint or natural finish. 
MisterWils has a wide catalog of lighting in which you can find lamps of different sizes, so you can choose the one that best suits your needs, your space and your style of decoration. Generally, large size lamps are used to achieve a general lighting, while small size lamps are used for spot lighting, and can be placed several together. 
RESTAURANT LAMPS, HOW TO CHOOSE THEM
Choose style
At MisterWils we have a wide selection of lamps in different styles such as Nordic, mid century, vintage, Mediterranean, industrial, rustic or japandi, among others.
To make your task easier, our hospitality lamps are categorized, so that with a single click you can see the selection of the specific style you are looking for..

Choose shape and size
In our range of hospitality lamps you can find luminaires of different shapes and even many models in different sizes, so you can choose the one that best suits your needs. Whether because of the space, the lines of the furniture or the way the light is projected, your restaurant will need lamps with a specific profile and size.  
Choose material
In our range of restaurant lamps you will discover a multitude of materials, from glass, metal, cement and wood to natural or artificial fibers.
We work with the most fashionable materials so that each client can decorate their business with trendy furniture and make a difference with respect to their competition. We believe that it is very important to be up to date, that is why we are one of the references in lamps for the horeca sector. 
RESTAURANT LIGHTING FOR PROFESSIONALS
We want to facilitate the purchase of horeca furniture, so we have commercial prepared to offer you the best solutions for your project. In addition, you can benefit from special conditions in the purchase of our furniture.
Choosing MisterWils hotel and catering lamps is a safe bet, not only because of the wide variety of models, materials and finishes, but also because of their design and style that will give your project personality.
Ceiling lamps, table lamps, sconces and lampshades in a multitude of materials and finishes. If you have clear how to illuminate your restaurant sure that in Misterwils you will find what you need, we have more than 1000 references in restaurant furniture.
DO YOU NEED MORE INFORMATION ABOUT OUR HOSPITALITY TABLES?
We have high commercial and logistical capacity to meet large volume orders, as well as our own workshops for the custom manufacturing of chairs for your restaurant, customized and personalized.
In MisterWils we have been for years as suppliers of very elegant and modern chairs. There are already more than 6000 customers who trust us, and every week we update our catalog with the latest trends.
If you need to know more about the special conditions for professionals, or you need us to advise you on the catering tables that can best suit your project, do not hesitate to write or call us.
Basic information about data protection:
Responsible: MisterWils S.L.
Purpose: Sending of requested information (in case you check the corresponding box).
Legitimation: Consent of the interested party.
Recipients: We do not transfer your data unless legally obliged to do so.
Rights: To access, rectify and delete the data, as well as the others detailed in the Privacy Policy.​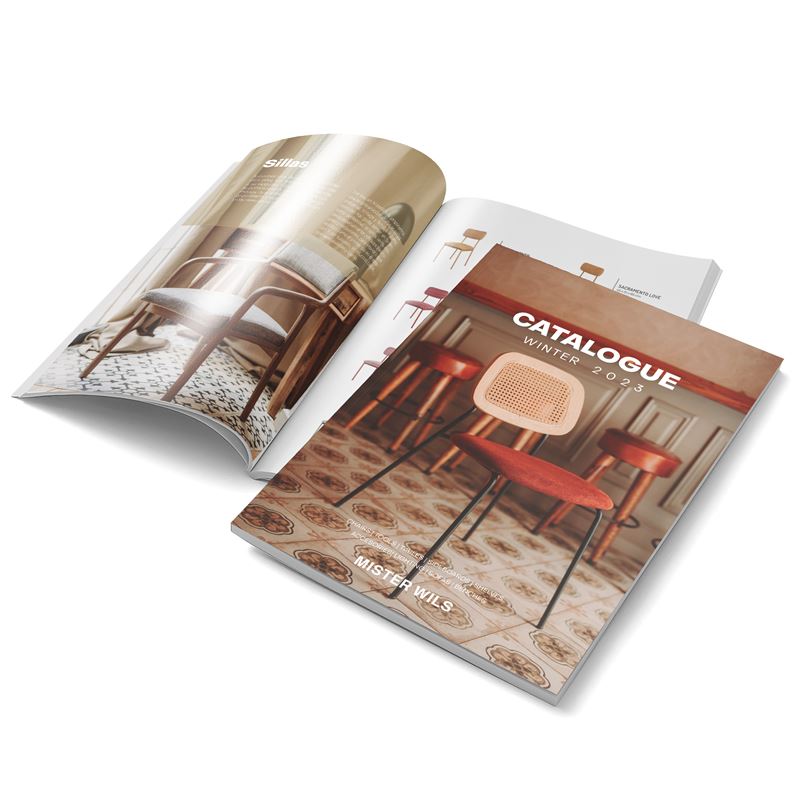 Download MisterWils' catalog
Every month we update our catalogue with all the latest chairs, tables, lamps, sideboards, stools, shelves and much more. We have furniture for the hospitality industry, specialists in Contract furniture, you can find out about the advantages for professionals.