RESTAURANT CHAIRS, CURRENT TRENDS
Nowadays in the hotel and catering business, a lot of attention is paid to the details, to the decoration, to the elements that are going to form part of the premises and that will ensure that we have a rounded and very comfortable evening. The basic elements that should not be missing are restaurant chairs and tables. Later we can add more elements, but the chairs for catering are essential to achieve the ambience you want.
HOW TO CHOOSE THE RIGHT HORECA CHAIR FOR YOUR NEEDS
Regarding chairs for restaurants, bars, cafeterias and leisure premises in general, at MisterWils we have more than 200 references in chairs: models, colours, designs and materials. The world of seating is very wide, and we currently have a great variety that helps our customers to set the aesthetics and style they want for their premises.
Setting a style is difficult, following the most fashionable trends will be of great help to keep up to date in terms of design, colours, models and materials that are most used at present. We can mix several styles, and include in the decoration of our premises chairs of different types, and thus achieve a more eclectic space. In Misterwils we have so many models of restaurant chairs that it won't be difficult to create a homogeneous style, if that's what you want.
If you have an outdoor space, the ideal is to look for outdoor chairs, made of synthetic fibre, resin or polypropylene. They are light, usually stackable, easy to clean and very resistant to external agents such as humidity, rain or sun.
In this category we find Bistrot style chairs, with the structure in aluminium, backrest and seat made in synthetic fibre imitation rattan. These chairs are usually stackable. They are very light, easy to handle and resistant.
Is the Mediterranean style your passion? Well, we have a series of models of horeca chairs that have the structure made of tubular steel, the seat and backrest in synthetic rattan fibre and have a very elegant design. These chairs can be used outdoors, but it is advisable to pick them up when it rains or if there is a lot of humidity, as steel is more sensitive to oxidation. They are easy to clean and are very resistant to the hustle and bustle that restaurants tend to have.
For large spaces, where you want to visually cover the room, upholstered lounge chairs with extra volume are ideal. Easy-to-clean fabrics, with fashionable prints, very resistant and elegant in appearance, these catering chairs will give you a lot of room to play with.
We can't forget wooden chairs. Natural materials are more delicate, but also very resistant to the comings and goings in restaurants, bars, cafés, etc. With the necessary care, wooden chairs are a very good choice for interiors. We also have restaurant chairs made of wood and canage mesh, wood and rope or wood and leather. The choice will be difficult, because they are all beautiful.
HOSPITALITY CHAIRS OF OUR OWN MANUFACTURE AND OUR READY-TO-WEAR
Choosing the upholstery
At Misterwils we have models of chairs that are manufactured in-house, and this is a plus when decorating your restaurant, because we can customise certain things such as the upholstery. Although we have a wide variety of these chairs in different colours and upholstery, you can also choose combinations that suit your needs.
Choosing the model
We have many chairs of our own manufacture, usually with a metal frame, wooden seat and backrest with a very marked Industrial style. We are currently working on Prêt-à-porter hospitality chairs, chairs for restaurants: modern, slim, light, resistant and colourful.
Choosing the colour
Our Prêt à porter chairs, locally manufactured, can be customised in the colour of the structure and upholstery, making the combination that you like and best suits the decoration of your premises.
RESTAURANT CHAIRS FOR PROFESSIONALS
We want to make it easier for you to buy horeca furniture, which is why we have sales staff trained to offer you the best solutions for your project. In addition, you can benefit from special conditions in the purchase of our furniture.
Choosing MisterWils hospitality chairs is a safe bet, not only for comfort, but also for its design and style that will give your project a unique and distinguished design.
Wooden chairs, natural or synthetic rattan, outdoor chairs or upholstered chairs, if you have clear how to decorate your restaurant sure that in Misterwils find what you need, we have more than 200 references in chairs horeca.
DO YOU NEED MORE INFORMATION ABOUT OUR CATERING CHAIRS?
We have a high commercial and logistical capacity to meet large volume orders, as well as our own workshops for the custom-made manufacture of chairs for your restaurant, made-to-measure and personalised.
At MisterWils we have been supplying elegant and trendy catering chairs for years. More than 6000 customers already trust us, and every week we update our catalogue with the latest trends.
If you need to know more about our special conditions for professionals, or if you need us to advise you on the best catering chairs for your project, please do not hesitate to write or call us.
Basic data protection information:
Responsible: MisterWils S.L.
Purpose: Sending the required information (in case you mark the required box)
Legitimation: User's consent.
Recipients: We don't release your personal data except when legally required.
Rights: To access, rectify and delete all data, as well as others indicated in our Privacy Policy.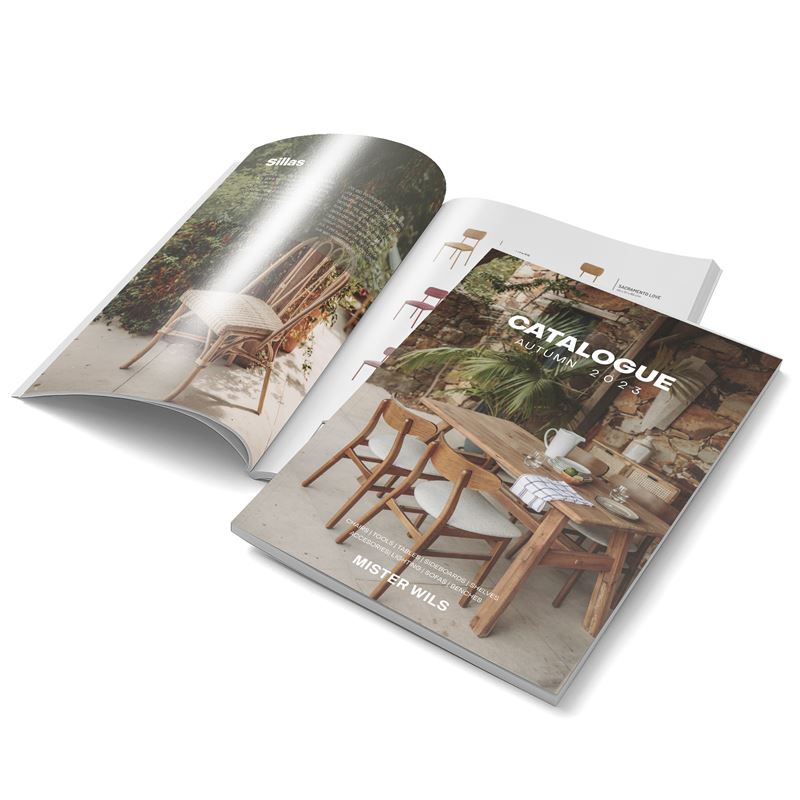 Download MisterWils' catalog
Every month we update our catalogue with all the latest chairs, tables, lamps, sideboards, stools, shelves and much more. We have furniture for the hospitality industry, specialists in Contract furniture, you can find out about the advantages for professionals.