RESTAURANT TABLES, TAPAS AND TABLE LEGS
Tables are usually the centre of the meeting, they should be pleasant to look at, easy to clean, light and durable. And not forgetting that it should be easy to place plates, glasses, cutlery, trays, etc. on them. Tables for the horeca channel are generally high tables, tables for stools, or low tables, tables for chairs. Sizes, legs, structures, materials, colours, woods… the variety is very wide.
MATERIALS, SIZES, COLOURS FOR RESTAURANT TABLES
Materials used in the Misterwils Restaurant tables. In our catalogue you will find a huge number of different types of wood: oak, pine, teak, mango, chestnut, cherry, Chilean pine, iroko, Asturian acacia, eucalyptus, etc. But wood is not the only material used by MisterWils to make table tops, we also have marble, phenolic and terrazzo. The choice of material is as important as the finish of the product.
Sizes for Restaurant tables. In general, the sizes for tables are usually standard, 60×60, 70×70, 80×80 and circular, although we have larger table sizes for larger meetings. For the manufacture of some models we have the support of our own workshops, where we can choose woods, finishes and sizes.
Variety in colours for restaurant tables. The subject of colours is very personal, not only according to the owner's own taste, but also according to the general furnishings you have chosen. But we have a very wide range of woods, with tones specific to the material, as is the case with marble, in black, white, pink or green tones.
In addition to these 3 attributes that a table can have, we have to take into account the place where it will be located, so you can opt for outdoor tables or stackable tables. Obviously, this is very important, as the weight, design and overall look of the table changes a lot.
For outdoor use, the best tables are made of phenolic, with an aluminium structure or those made of polypropylene, which are perfect for terraces. In addition, these types of tables are characterised by their lightness so that they can be moved, although not all designs are stackable.
RESTAURANT TABLES, PERSONALISE IT
Choosing a top
As we said, we have wood, marble and terrazzo. Choosing the one you like the most, the size you need is the first thing. If you decide to go for wood, we have imported wood, and our own wood, from our workshops, where you can choose the type of wood, and the finish you want, as well as a more personalized size.
Choose foot, structure or frame
We have table frames and table legs in metal or wood. Different shapes, colours and heights, they can be for a table with stools, or a table with chairs. It's easy to customise a table for your venue, just talk to us.
Choosing a finish
And finally, if you are clear about the first steps, you have a clear idea of the style you want, so it won't be complicated to detail the finishes. Contact our staff, they will offer you the best solutions for your tables.
RESTAURANT TABLES FOR PROFESSIONALS
We want to make it easier for you to buy horeca furniture, which is why we have sales representatives who are prepared to offer you the best solutions for your project. In addition, you can benefit from special conditions in the purchase of our furniture.
Choosing MisterWils restaurant tables is a safe bet, not only for the opportunity to customise certain things, but also for their design and style that will give your project personality.
Tables for stools, tables for chairs, different types of wood, marble in various colours, stackable tables or outdoor tables in phenolic or polypropylene, if you have a clear idea of how to decorate your restaurant, Misterwils is sure to find what you need, we have more than 1000 references in restaurant furniture.
DO YOU NEED MORE INFORMATION ABOUT OUR HOSPITALITY TABLES?
We have a high commercial and logistical capacity to meet large volume orders, as well as our own workshops for the custom-made manufacture of chairs for your restaurant, made-to-measure and personalised.
At MisterWils we have been supplying elegant and modern restaurant tables for years. More than 6000 customers already trust us, and every week we update our catalogue with the latest trends.
If you need to know more about the special conditions for professionals, or if you need us to advise you on the best catering tables for your project, please do not hesitate to write or phone us.
Basic data protection information:
Responsible: MisterWils S.L.
Purpose: Sending the required information (in case you mark the required box)
Legitimation: User's consent.
Recipients: We don't release your personal data except when legally required.
Rights: To access, rectify and delete all data, as well as others indicated in our Privacy Policy.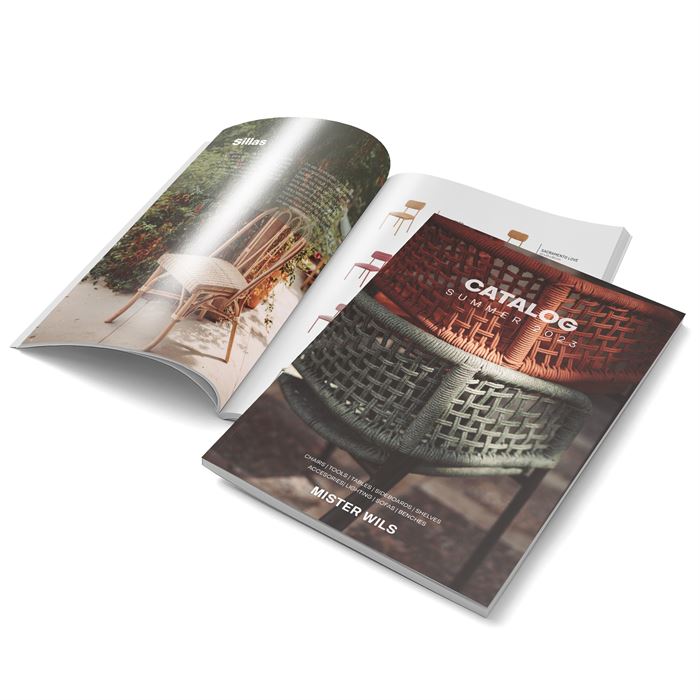 Download MisterWils' catalog
Every month we update our catalogue with all the latest chairs, tables, lamps, sideboards, stools, shelves and much more. We have furniture for the hospitality industry, specialists in Contract furniture, you can find out about the advantages for professionals.