It should come as no surprise that Nordic furnishings are all the rage; after all, our 'modern' idea of interior design comes largely from Scandinavia.
But how to create those warm and cozy environments that we love so much about this type of decoration? To find out, we dive into the book Hygge Home (Libros Cúpula, 2022), by Meik Wiking. The director of the Happiness Institute, who a few years ago spread around the world the true essence of well-being in northern countries, has a lot to teach us about how to add hygge ("warmth, tenderness, comfort") to any home. Find out!
1. To promote a hygge feeling, get a round table when choosing your Nordic furniture.
"At a round table, no one sits in the chair and everyone is considered an equal. So you can say that a round table brings equality and peace, but it also has more advantages on a day-to-day basis: a cozier atmosphere and a larger space," Wiking explains.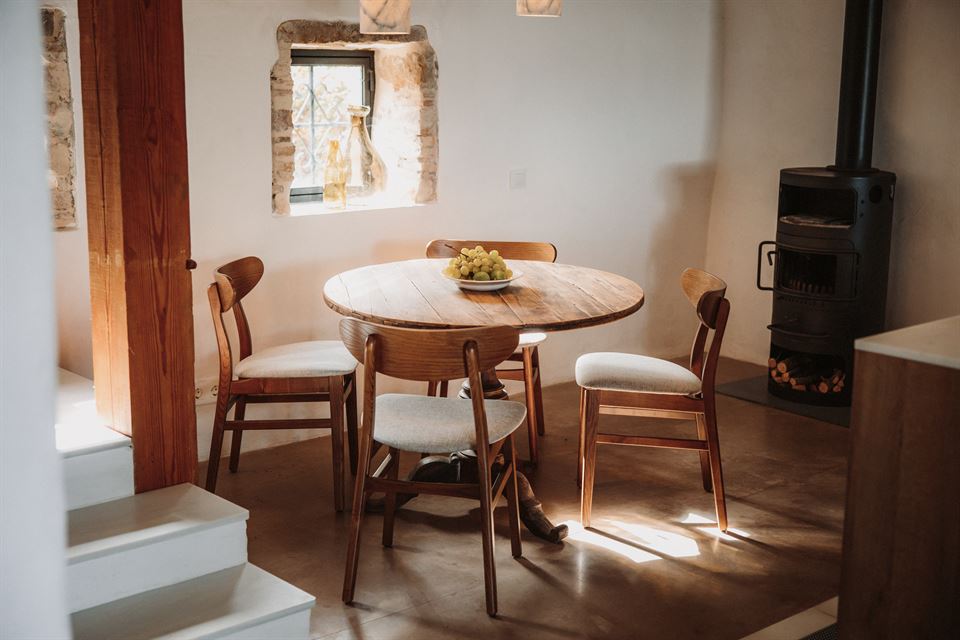 "A round table allows everyone to make eye contact with each other, which creates a more personal and intimate atmosphere. It also means that everyone can participate in the conversation, which can be deeper and more personal. No one presides at the table and no one feels isolated. Also, even if the number of guests is uneven, it doesn't give the impression that there is an empty seat," he continues.
So if we're looking to add hygge to our home, it's clear what kind of Nordic furniture we need. A fantastic example? The Leire round wooden table, with a structure made of wooden pallet and a solid beveled cherry or mango wood top. Its unique and sculptural foot adds even more amplitude to the room, another of the maxims of Nordic decoration.
Wooden table Nordic Contemporary style.
Frame made of pinewood palletry.
Solid cherry or mango wood beveled tabletop.
491,00€ – 626,00€ without VAT
From 594.11€ ( incl. VAT )
2. Create cozy corners thanks to Nordic furniture.
"We have to make sure we design places that give us shelter. To keep us centered. To recharge our batteries. Whether you're an introvert or not (…) This applies to the living room – especially if it's a large, open-plan space – as well as the kids' room or the garden, if you have one. Let's create caves and nooks and crannies for us introverts to hang out in with our books and our cup of tea," says Wiking.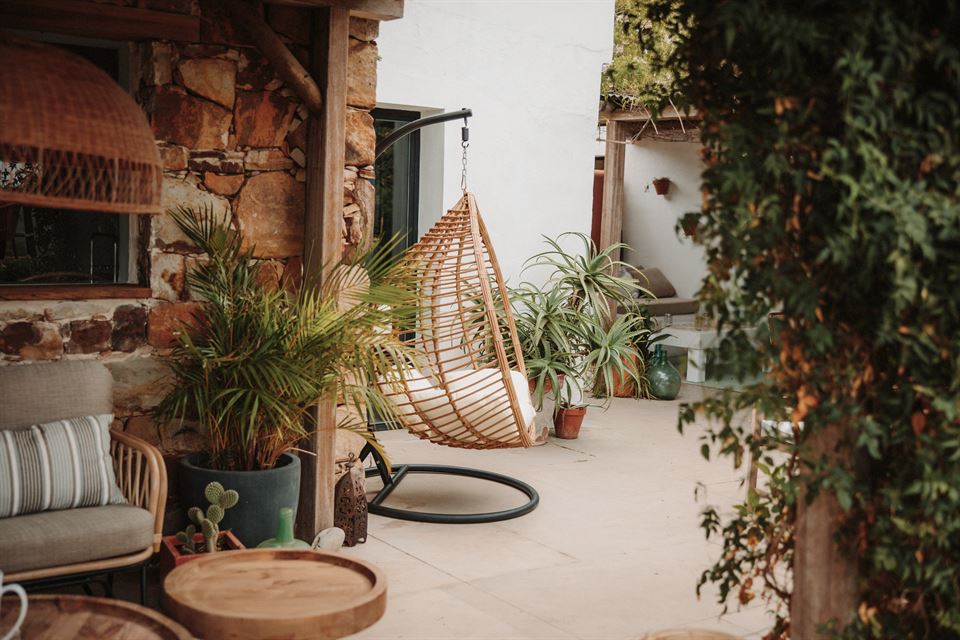 There is Nordic furniture specially designed to plan those small and comfortable spaces of comfort for which northern homes are famous. For example, the Egg hanging chair, inspired by the timeless icon of the great Danish designer Arne Jacobsen, now recognized worldwide as a Scandinavian design classic.
Its natural rattan curves, which seem to embrace you like a cocoon, instantly generate a sense of home and a desire to snuggle up. A Nordic decor must-have contributes to this: the cushions in neutral tones, which are included with the chair itself.
184,00€ without VAT
222.64€ ( incl. VAT )
3. Make sure you have the right lighting for your Nordic furniture.
In line with the above, it is interesting -we would almost say "mandatory"- to replace the uniform lighting coming from the ceiling with spotlights that guide you to the best corners of the house.
"The floor lamp resting next to the sofa whispers to you, 'Grab a book off the shelf and come with me.' The little green lamp on the wooden desk – near the old typewriter – beckons you to come and write. In one corner, a globe lamp gives wings to your gaze and your imagination. With each element adding points of hygge, an evening there will be a delight," writes Wiking.
The Yebra table lamp is ideal for creating a warm corner among your Nordic furniture thanks to its shade made of natural rattan, which provides a pleasant diffused light (to emphasize this feeling, don't forget to put a yellow bulb instead of white!).
Table lamp made of natural rattan.
Size: Ø29xH41 cm | Cable length: 120 cm
29,00€ without VAT
35.09€ ( incl. VAT )
You can combine it with a luminaire over the dining table, such as Margot, with a round steel shade with a wooden detail that makes it look even cozier – great for lighting up long, hygge after-dinner conversations with your loved ones!
205,00€ without VAT
248.05€ ( incl. VAT )
4. Generate 'soft' spaces by adding rugs, cushions and blankets to your Nordic furniture.
"Rugs are a great – and easiest – way to create space in a room, and, because of the softness of their materials, they add points of hygge to the room," reads Hygge Home.
To this point, the author adds another equally important tip for achieving happiness at home: "Create soft seating spaces. If you don't have room for a sofa, but want to have a cozy area to read, poufs, futons and/or cushions are a very effective way to create a comfortable place when you need it, while allowing you to be flexible with your environment."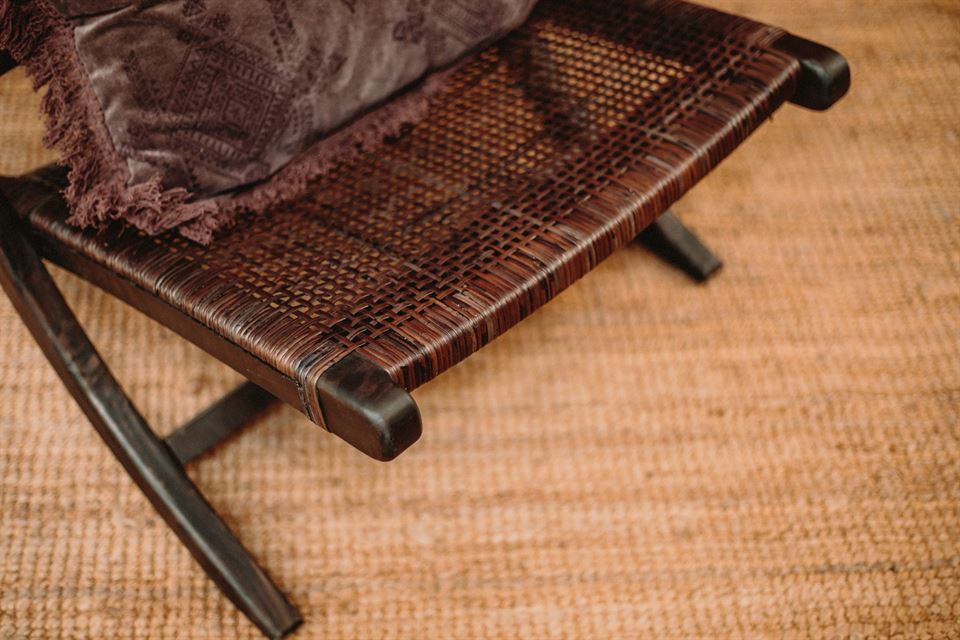 By combining these two fabulous ideas with our favorite Nordic furniture, we will obtain environments in which we really feel like being, calming down and sharing. We can finish them off with a lounge chair, one of those that allow us to be close to the floor in a relaxed position.
An infallible idea is to bet on Bergen, made of solid tropical wood structure, with seat and backrest in natural rattan grid cannage type. In addition, being foldable, it allows us that flexibility so appreciated by lovers of hygge, who love large spaces that can adjust their functionality to the different circumstances and needs of our day to day, and add a comfortable blanket or a cushion that matches the decor of the room!
254,00€ without VAT
307.34€ ( incl. VAT )
The perfect touch to complement your Nordic furniture? Green, green and more green!
"It has always seemed to me that having lots of plants increased hygge. Placing plants in different rooms is a way of connecting the inside with the outside… and it turns out that green spaces are not only good for hygge, but also for our health," says Wiking.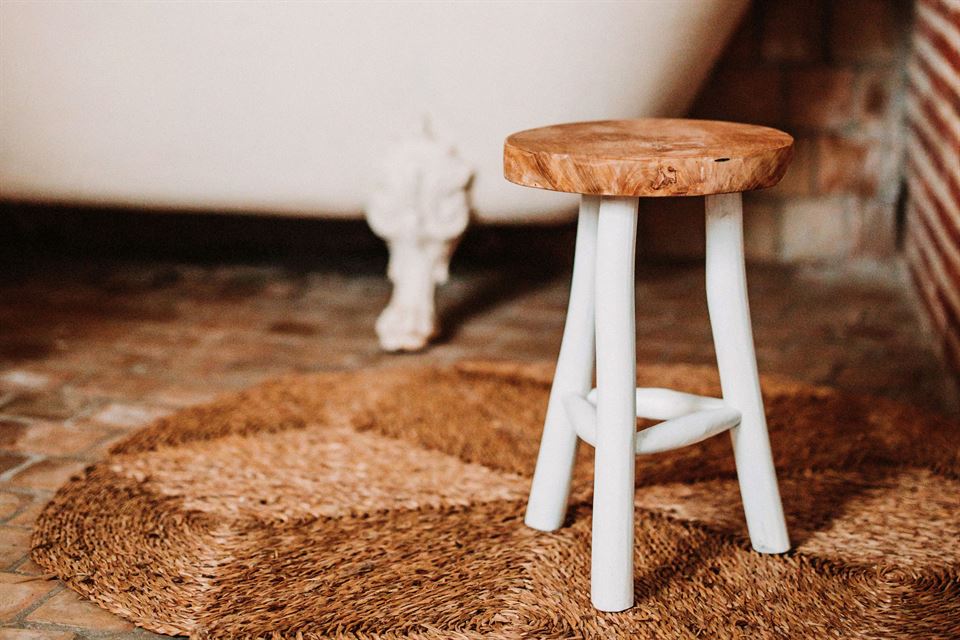 Countless scientific studies confirm this hypothesis, although Scandinavians have used their intuition to fill their homes with green. And not only on the terrace: also on the balcony, in the garden, in the living room, in the kitchen … The key is to do it with taste and some diversity, creating, for example, different heights on which to place the pots.
Nordic furniture such as Yokomi, a rustic-Scandinavian style stool with a structure made of solid teak wood and legs finished in white paint, will help us to achieve this.
59,00€ without VAT
71.39€ ( incl. VAT )
A very hygge environment with Nordic furniture and 'tasteful' accessories
Taking care of the lighting, shaping cozy corners where you feel like relaxing, adding greenery to all rooms, adding warmth through cushions, blankets and carpets… There are many ways to create a hygge home, and all of them add well-being and happiness to the inhabitants of the house. Which ones will you put into practice…?
Follow us on Instagram
Are you decorating your spaces with MisterWils' furniture? Tag us on your Instagram posts so we can share it and keep inspiring our decolovers and interior designers network.