Terraces with swimming pools are a very desirable space during the summer and if you are one of the lucky ones who has an outdoor pool, you will know that it is an ideal space to relax, enjoy the outdoors and cool off in summer. However, it is not always easy to find the right way to decorate this area to make it more welcoming and attractive. How can we decorate these terraces to make them an even more pleasant place? In this post, we will give you 5 ideas to decorate terraces with a pool and turn them into a perfect oasis for you and your guests.
1. Create a relaxing atmosphere with a sofa or comfortable bench
To create a relaxing atmosphere on a pool deck, one of the key elements is a comfortable sofa. With the right sofa, you can transform your deck into an oasis of relaxation and comfort.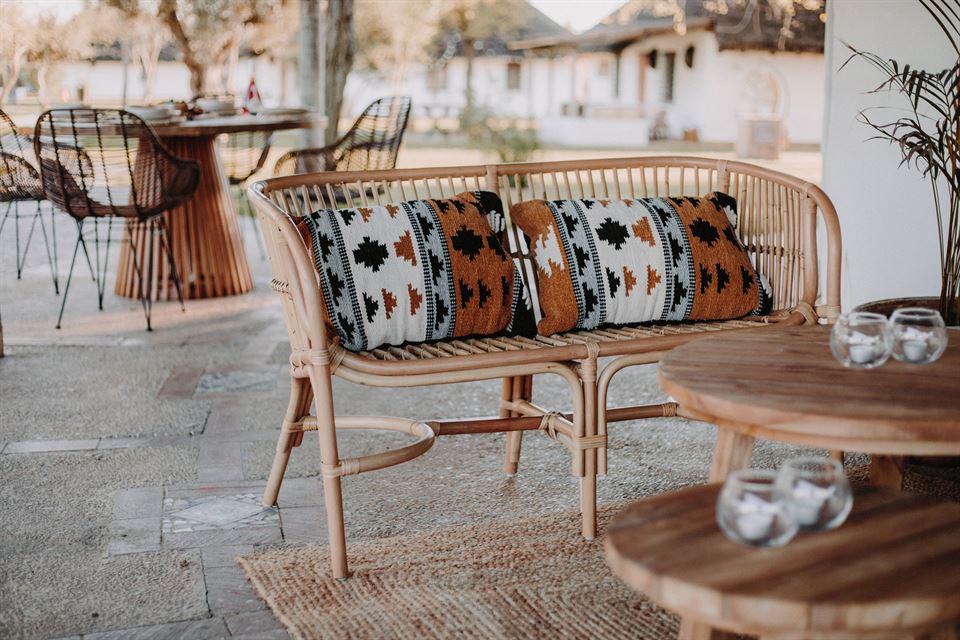 To choose the perfect bench or sofa it is important to consider the style and quality of the design and material. It should be weather and sun resistant if we want it outdoors, but if we have a porch type area, it is the ideal area so that it does not suffer from direct sunlight.
Rope and synthetic rattan sofas are popular choices that fit well with any style of outdoor decor. In addition, a sofa with comfortable, water-resistant cushions can provide added comfort and durability.
The Nokobu rope sofa is a sleek and sophisticated piece that can add a touch of style to any pool deck. Made with high quality materials and a sturdy frame, this sofa provides exceptional comfort. The hand-braided rope adds a unique and attractive touch, while the high-density foam cushions offer extraordinary softness and support. With the Nokobu rope sofa, you can create a relaxing and cozy atmosphere on your covered terrace.
Nokobu cord sofa, Contemporary style.
Tubular aluminium frame with powder coat finish.
Seat and back in natural rope.
Textile upholstered cushions included.
Measurements:
Armchair 1 seat: 80x82x85 cm | Seat height: 46 cm | Armrest: 72 cm | Cushion thickness: 11 cm
Sofa 2 seats : 150x82x85 cm  Seat height: 47 cm | Armrest: 72 cm | Cushion thickness: 11 cm
219,00€ – 449,00€ without VAT
From 264.99€ ( incl. VAT )
If you like your furniture more gathered, a bench may be just the thing. The Isona rattan bench is beautiful and elegant, adding a touch of style to any pool deck. Made with high quality materials and a sturdy structure, this bench provides remarkable comfort.
Isona rattan bench, Bistro style.
Natural bamboo structure.
Seat and back in braided synthetic rattan pith.
Measurements: 154x54x88 cm
379,00€ without VAT
From 458.59€ ( incl. VAT )
2. Use accessories to create a relaxing and cozy atmosphere.
Accessories can transform any pool outdoor into a more comfortable and inviting space. Some of the most popular accessories include pillows, cushions, blankets, baskets, and candles.
These accessories can be used to add color, texture, and personality to your deck or porch. In addition, they can provide a touch of relaxation for those times when you want to relax outdoors for summer evenings.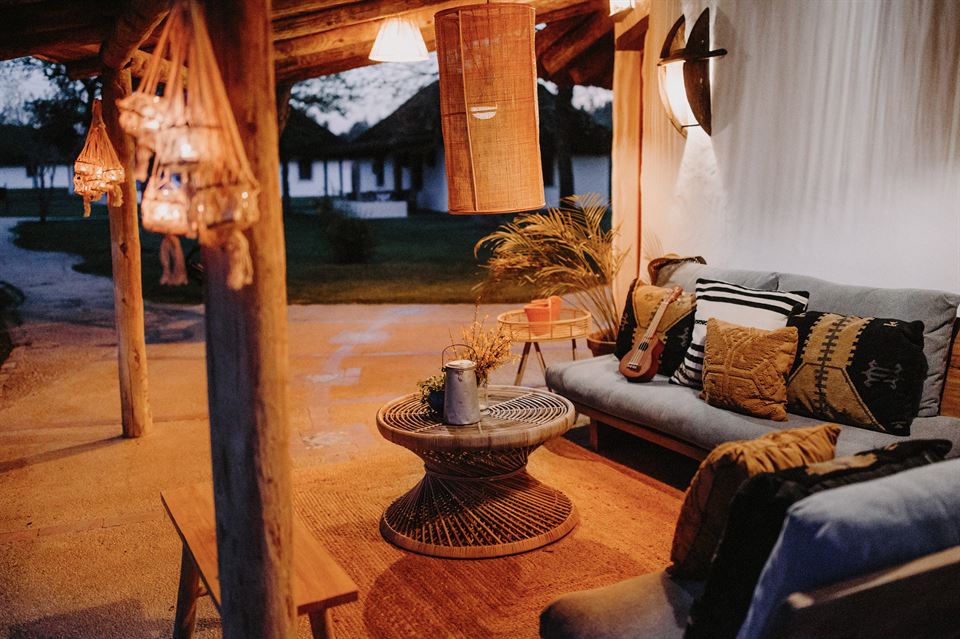 And if you complement all these accessories with a low outdoor table, it will serve as a support and meeting center, where you can have a relaxed evening with friends or family.
The Surubaya table is ideal to achieve this, Contemporary style, is made of aluminum, and imitation marble top, is perfect for decorating a terrace with pool.
Surubaya outdoor table, contemporary style.
Coffee table with aluminum frame and imitation marble top.
UV protection.
Measurements: 130x70x41 cm
109,00€ without VAT
131.89€ ( incl. VAT )
3. Green corners, freshness to decorate your terrace with pool.
Plants are a staple for any pool terrace, from adding a touch of nature and color to improving air quality. You can choose decorative plants, aromatic plants, or even fruit trees, although the latter can take several years to grow for natural shade.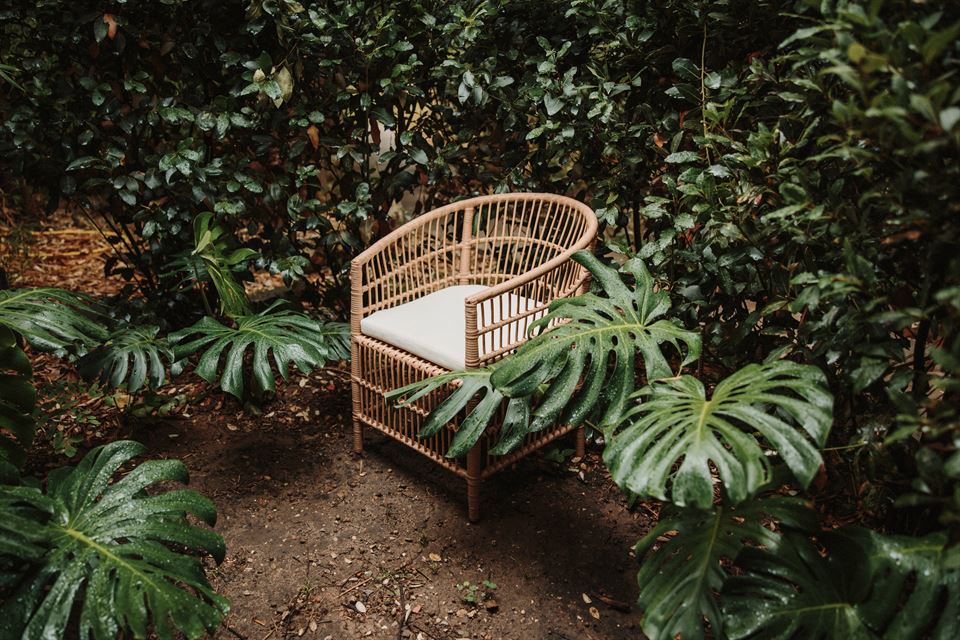 If you want to put some of your plants on supports, you can do it with these beautiful wooden boxes, they are made of pine wood and will give you a vintage touch.
Wooden box made of pinewood. Available colors: white and natural.
Size: 50x32x25 cm.
16,00€ without VAT
19.36€ ( incl. VAT )
And if what you want is to have a little green corner on your porch or covered terrace, this planter is ideal for it. It is the Planter planter, made of natural bamboo and rattan grid.
Pot made of bamboo and natural rattan.
Size: 71×36.5×49.5 cm
163,00€ without VAT
197.23€ ( incl. VAT )
Cacti are also very valid to decorate a terrace, there are so many species of cactus that you can create your own cactus garden, like the famous Lanzarote artist César Manrique, who created a beautiful cactus garden on the island with more than 500 different species from the 5 continents. The variety is wide, and the decorative effect leaves no one unmoved.
4. Add an original touch
If you want to give an original touch to your terrace with pool, a hanging chair is a brilliant choice. They are perfect for relaxing and enjoying the sun and the breeze while contemplating the beauty of the pool. In addition, they offer a touch of style and elegance that will transform your terrace into a modern and cozy space. One of the advantages of hanging chairs is their versatility. They can be used anywhere on the terrace, either in a corner or in the center of the space.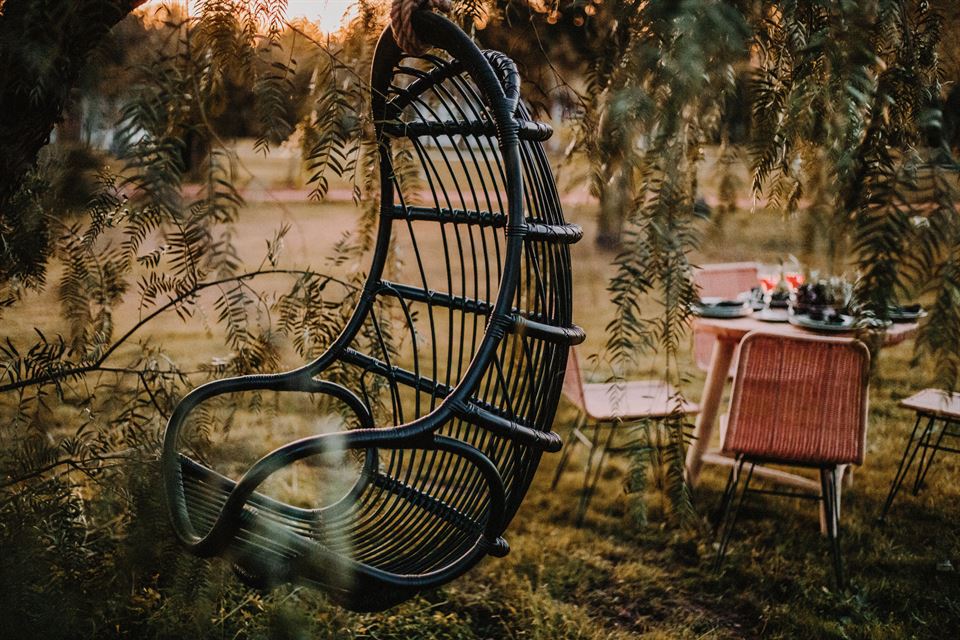 The Corsica hanging chair is an ideal choice for decorating your garden, porch, or pool deck. This chair is made of high quality synthetic rattan and features a high density foam cushion for comfort. In addition, its design is very appropriate for this type of spaces.
Hanging chair Egg Chair type Nordic style, made of synthetic rattan.
This hanging chair includes steel support with chain and spring (coil spring), which makes the suspension more comfortable and safe.
Cushions included.
Size: 105x105x128 cm | Seat height: 50 cm | Total height with support: 195 cm
249,00€ without VAT
301.29€ ( incl. VAT )
5. Extra chairs for guests on your terrace with swimming pool
Low stools are an excellent option for adding extra seating to your pool deck. In addition, they can be used as side tables for drinks or snacks. The materials and designs of these seats are usually very varied, you can find wooden stools in Mediterranean style or synthetic fiber stools in Bistró style, the possibilities are very wide.
An interesting aspect of the low stools is that they are easy to transport and move around the space. If you have guests, you can move the stools to different areas to suit the needs of the moment. They also take up very little space, making them an ideal choice for small porches and terraces.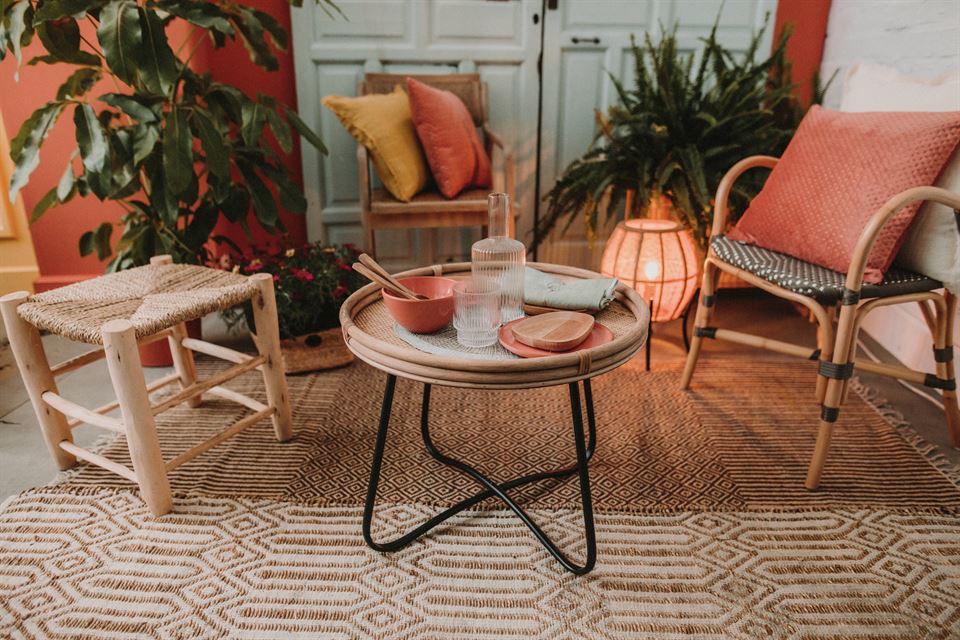 Low stools can also be used to add a touch of color or texture to your décor. If your porch or deck has a neutral color palette, you can choose stools in vibrant colors or with interesting patterns to create a focal point. If you want to add texture, you can opt for stools in materials such as wicker or rattan.
The Lobby stool, made of synthetic fibers and with a marked Bistro style, is perfect for its design and neutral color, and for the lightness of its materials. Functional and aesthetic, it is a must have in the decoration of a terrace with swimming pool.
Lobby outdoor low stool, Bistro style.
Aluminum tubular structure finished in bamboo imitation.
Seat in braided synthetic rattan pith.
Suitable for outdoor use.
Measurements: 37x37x45 cm | Seat: Ø36 cm
87,00€ without VAT
105.27€ ( incl. VAT )
Another option, if you like more natural materials, is the Kandice stool, rustic style, made of laurel wood and natural rope seat, made of palm leaf.
Low stool Vintage / Shabby Chic style. Frame made of laurel wood and seat made of natural palm leaf.
This product is handcrafted, measure is approximate.
Measurements: 41,5×41,5×40 cm
35,00€ without VAT
42.35€ ( incl. VAT )
The decoration of a modern and elegant terrace with swimming pool with trendy furniture.
In conclusion, decorating an outdoor space with a pool can transform it into a personal oasis that invites rest and relaxation. Choosing the right design furniture is essential to achieve a modern and attractive space. From outdoor tables and chairs to comfortable sofas and hanging chairs, each piece should be carefully selected to create a balanced and harmonious environment.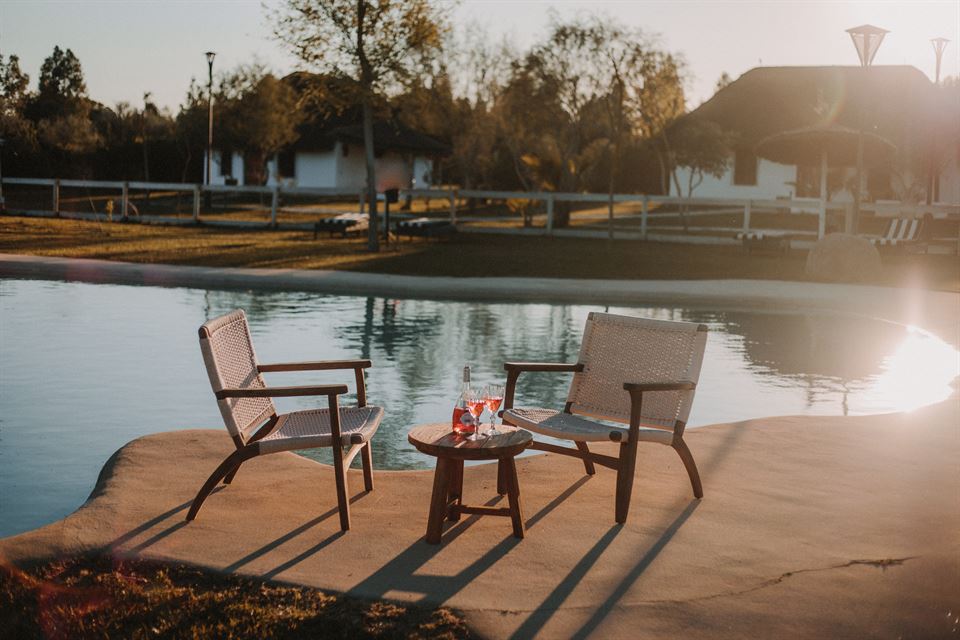 When choosing design furniture for these outdoor spaces, it is important to consider the quality of materials, weather resistance and ease of maintenance.
In addition, the choice of color is key to creating a welcoming and harmonious environment. Neutral tones can be perfect to achieve a calm and sophisticated atmosphere, while touches of color can be ideal to add a touch of personality and dynamism.
In short, decorating a porch or deck with a pool with designer furniture is an exciting task that offers endless creative possibilities. The key is to choose pieces that reflect your personal style and are functional and comfortable. By following these guidelines, it is possible to transform any outdoor space into a private oasis of tranquility and style.
Follow us on Instagram
Are you decorating your spaces with MisterWils' furniture? Tag us on your Instagram posts so we can share it and keep inspiring our decolovers and interior designers network.