To have a modern living room you must find a balance between functionality, aesthetics and comfort. If you follow these tips and make sure that all the elements you choose follow the right aesthetic line, you will achieve a modern and cozy space in your home.
How to choose the style to have a modern living room?
It is very important to know that nowadays almost all decorative styles have a place in interior design, from Mid Century to Minimalism, through the Industrial or Mediterranean style.
Of course, in all styles achieve neutrality, use trendy furniture and decorative elements, are a plus to have spaces, and in this case, modern living rooms.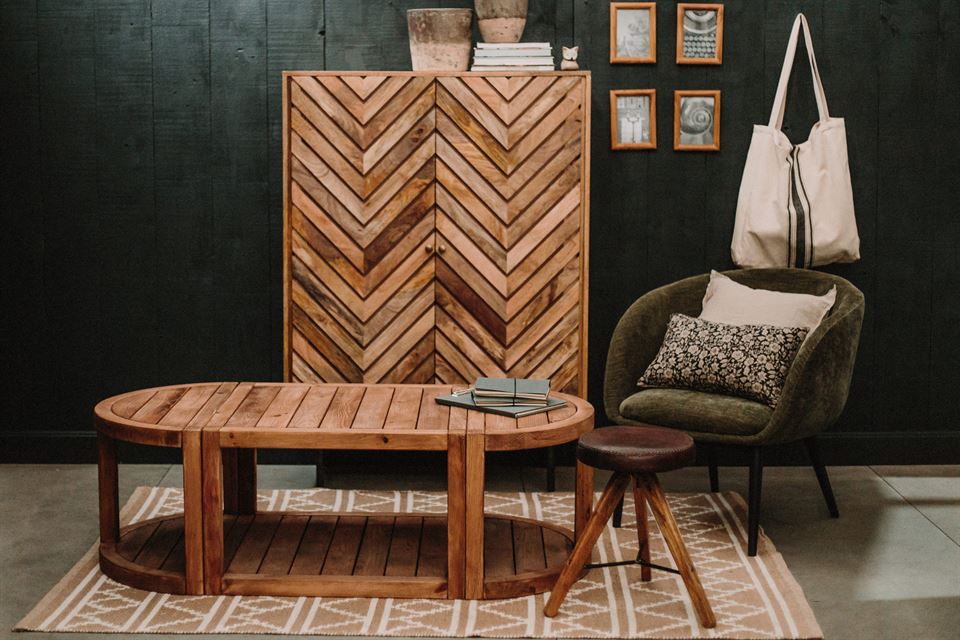 What is the current trend in living room furniture?
If you are just thinking about renewing the furniture in your living room to achieve modernity, it is important that you are aware of current trends in decoration. Here are some ideas for choosing furniture:
Natural materials, is the most current Eco-Friendly trend: the use of natural materials such as wood, wicker or leather is booming. These materials bring warmth and elegance to the space, and are perfect for creating a cozy atmosphere.
Simple lines: the minimalist style is still very popular in living room decoration. Furniture with simple and elegant lines is perfect for creating a modern and sophisticated atmosphere.
Combination of styles: a very current trend is to mix different decorating styles in the same space. For example, you can combine modern furniture with vintage or rustic elements to create a unique and personal atmosphere.
Neutral colors: neutral colors, such as white, gray or beige, are still the most popular choice in living room decoration. These tones are perfect for creating a relaxed and timeless ambiance.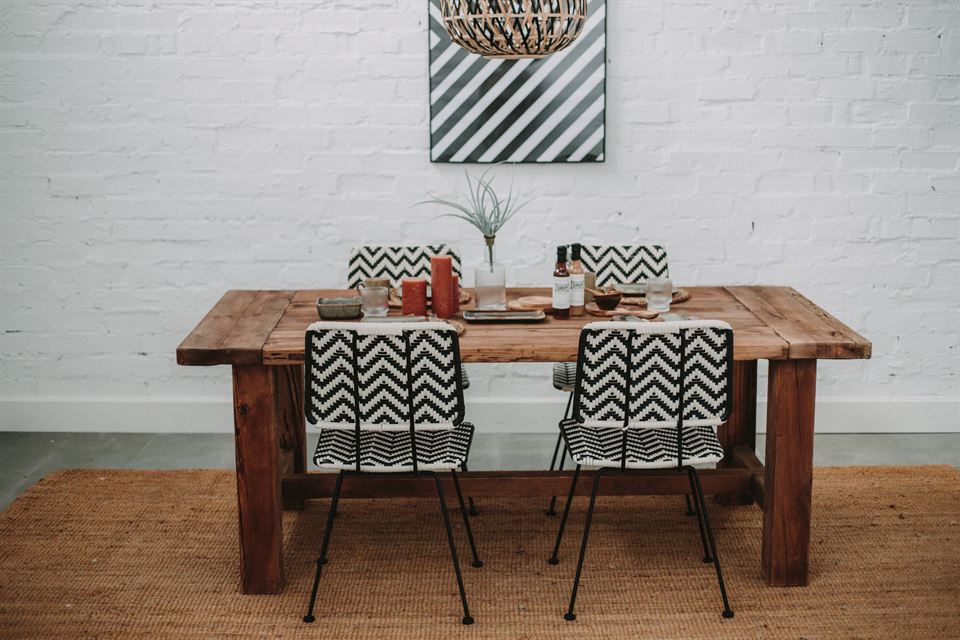 Furniture that is indispensable
From tables, chairs, through lighting, and not forgetting complementary furniture with shelves or sideboards, all should be chosen calmly, with visual examples of how they would look and if you have someone to advise you, even better. We are going to show you some of the most successful furniture on Instagram and so you will have real examples of what furniture you can choose to get to have a more modern living room.
Wooden tables for a modern living room.
Sitting down to relax or meet with friends and having a table at your fingertips is a must. As we have mentioned, natural materials are all the rage, and this interior designer we show you in this instagram post is an expert in combining style, simple lines and natural materials.
 

Ver esta publicación en Instagram
To make it easier for you to find a low table, we show you a very similar to the one that appears in the instagram post. It is the DEROME table, it is a coffee table made of recycled pine wood.
Coffee table made of recycled pinewood.
This piece of furniture is handcrafted with old wood and recycled wood, so it has the marks and irregularities of the wear and tear caused by the passage of time. The wood is treated against woodworm, but you can find old woodworm marks in this type of wood.
Not suitable for outdoors.
Size: 135x78x46 cm
439,00€ without VAT
531.19€ ( incl. VAT )
And a dining table, also made of wood, is a must in a living room, providing style and personality, always combined with modern chairs, but without forgetting the natural material.
 

Ver esta publicación en Instagram
With a very similar style, made of natural material is this MISURI table, a rather large table, to have unforgettable evenings.
Misuri wooden table, Rustic – Vintage style.
Made of solid recycled pine wood with crossbeam.
This piece of furniture is handcrafted with old wood and recycled wood, so it has the marks and irregularities of the wear and tear caused by the passage of time. The wood is treated against woodworm, but you can find old woodworm marks in this type of wood.
Not suitable for outdoors.
Size: 240x100x76 cm
799,00€ without VAT
From 966.79€ ( incl. VAT )
A modern living room needs designer chairs
The choice of chairs can sometimes be lengthy, the colors, shapes, styles, what is fashionable, and the amount of supply that is currently available, makes it a very meditated task.
But let's pull classics for this moment, and the Chandigarh chair is perfect for this, designed by Le Corbusier's cousin, Pierre Jeanneret, who devised for the administrative buildings of the new city a complete line of furniture of functional and refined forms, which refer to the Modern Movement of the time.
 

Ver esta publicación en Instagram
 

Ver esta publicación en Instagram
In this line we have the CAPITOL chair, made of elm wood, with cannage seat and back, available in two colors, brown and black.
Wooden chair made of solid elm tree wood.
Seat and backrest made of rattan grid.
Transparent varnish finishing. 
Size: 55x60x85 | Seat height: 46 cm | Armrest height: 67 cm
162,00€ – 179,00€ without VAT
From 196.02€ ( incl. VAT )
In rustic style, with recycled wood and upholstered in dark color, the TAMUL chair, also with a design based on the lines of this icon.
Rustic style wooden and upholstered chair TAMUL
Made of recycled pine wood and upholstered seat and back in textile.
Measurements: 56x60x84 cm | Height of seat: 49 cm | Armrests: 63 a 66 cm
205,00€ without VAT
248.05€ ( incl. VAT )
Light up your modern living room with natural fibers
A good light source is important, having large windows that bring in natural light is ideal, but even with the sun coming through your window, lamps are a must.
In recent years, the decorative trend of natural fiber lamps has become very popular in interior design. These types of lamps made from materials such as wicker, rattan or bamboo, bring a warm and cozy feeling to any space and also add a very cool and eco-friendly touch to any room.
In addition, these lamps are super versatile, as they adapt to any decorating style, from rustic to modern. Wicker lamps, for example, are perfect for a rustic atmosphere, while bamboo or rattan lamps fit perfectly in a bohemian or tropical style decor.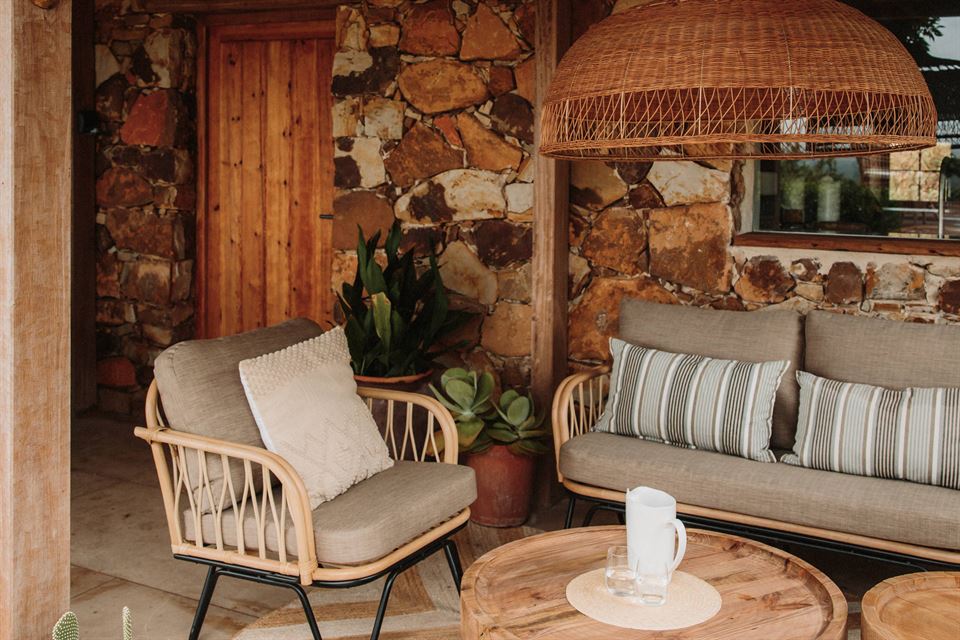 Another advantage of natural fiber lamps is that they are generally handmade, which gives them a sense of exclusivity and unique personality.
As for the lighting they provide they are usually soft and diffused, which creates a relaxing and cozy atmosphere in any room. And thanks to their material and design, you may even feel like you are in a cabin in the woods surrounded by nature and peace. Doesn't it sound amazing?
 

Ver esta publicación en Instagram
The SAMOA lampshade is great for getting that feeling of nature, peace and warmth, made of handcrafted rattan. Mediterranean style and in a toasted color, its curved and simple lines make it perfect for a modern style space.
Samoa rattan lampshade for ceiling lamp, Mediterranean style.
Cable and lamp holder not included. Can be combined with DOLPHIN screen support.
Not valid for outdoor use.
Size: Ø100×40 cm
128,00€ without VAT
154.88€ ( incl. VAT )
And to have a round lighting we will complement this main light with wall sconces, and for this we show you the ROMANE wall lamp with a modern design and also made of natural fibers.
Romane wall light, Mediterranean style.
Made of braided natural bamboo.
E27 socket. Max 60W.
Measurements: Ø44×12 cm
121,00€ without VAT
146.41€ ( incl. VAT )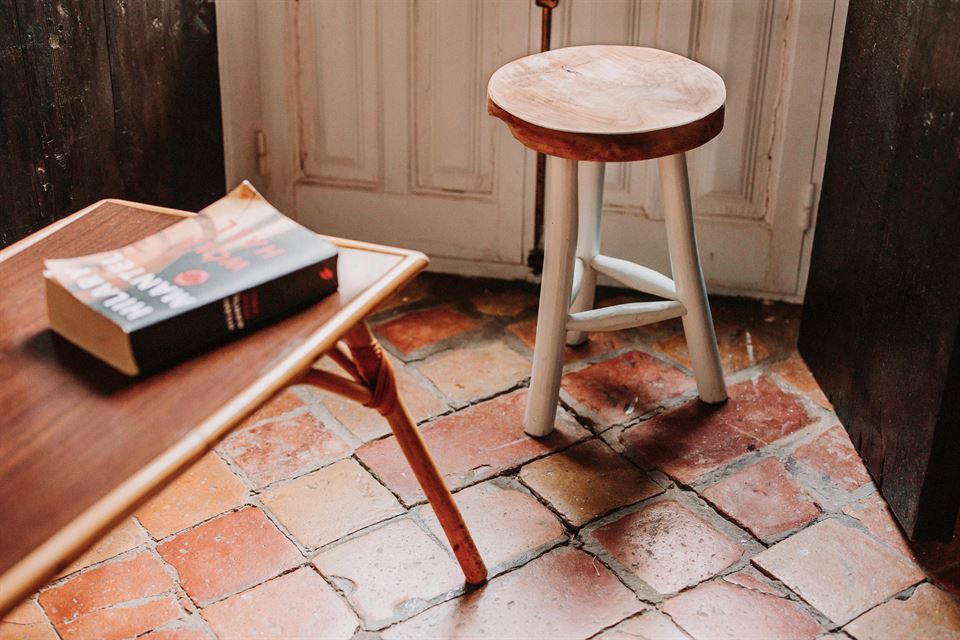 Extra furniture with a boho touch for a modern living room
The perfect complement to furniture made from natural materials such as wood or natural fibers are stools. Why? Because there are many models and designs that can fit with the chosen decor, they are also very versatile as they can be placed in an empty corner or used as side tables to place plants, books or candles.
 

Ver esta publicación en Instagram
In addition, wooden stools are very resistant and durable, so you can have them for many years without having to change them. So if you are thinking of giving a boho and cozy touch to your home, do not hesitate to try some wooden stools like this YOKOMI, made of Teak wood and legs finished in white paint.
Wooden low stool Rustic – Scandinavian style, made of solid teak wood, with white powder paint finishing on the legs.
This piece of furniture is handcrafted, therefore it has marks and irregularities caused by the material's wear over time.
Size: Ø30×45 cm
59,00€ without VAT
71.39€ ( incl. VAT )
Finally we have what we were looking for to decorate our living room.
The decoration in general focuses on bringing a fresh and current air to our spaces, in particular we have focused on the living room, and the final idea can be summarized in creating a comfortable, functional and pleasant environment, without neglecting your style and aesthetics.
As we have told you the decoration of modern living rooms and be trendy is an excellent way to renew and update your home. Through the use of natural materials and elements, and the combination of styles and colors, you can achieve a modern, cozy and stylish atmosphere. Dare and renew your living room with stylish, functional and durable furniture.
Follow us on Instagram
Are you decorating your spaces with MisterWils' furniture? Tag us on your Instagram posts so we can share it and keep inspiring our decolovers and interior designers network.